During my outreach campaigns, I became a sort of a blogging evangelist.
That's because I've seen the benefits of blogging first-hand, and I want my clients to experience the same.
However, I encounter a lot of lame excuses as to why some business leaders don't want to blog.
I'm not being mean or petty here.
The purpose of this article is to actually convince people that blogging is an essential marketing practice.
With that said, here are some of the excuses I get on a daily basis:
Not Interested – They simply don't want a blog for whatever reason.
Indifferent – They know blogging has benefits but don't see the point in putting a lot of time and effort into theirs.
Already Handled – They handle their blog internally or some other way, yet their blog is rarely populated and has low-quality content.
Again, I'm not being mean.
I just don't want anyone to miss out on all of the benefits blogging has to offer them.
In this article, I'll break down eight reasons why your company needs a blog.
Let's get started.
Table of Contents:
1. Blogs Build SEO
Websites with a blog receive 434% more indexed pages than those without them.
That means that a website with a great blog is going to rank well on Google.
Their website will show up for a bunch of keywords and that leads to business opportunities.
Companies who blog also receive 97% more backlinks to their website.
Backlinks are the #1 driver of search engine optimization (SEO).
This graphic from Moz says it all.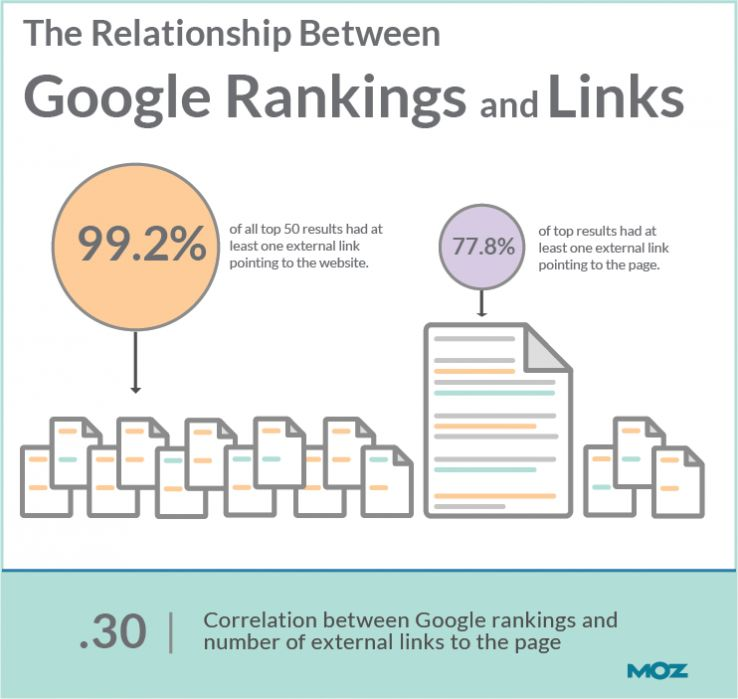 If you invest thoroughly into making your blog sparkle, it'll pay off.
When potential customers search for businesses like yours online, they're gonna find you more often than not.
And, that gives you a chance to convert.
Let your blog make your business money.
Don't ignore an easy, money-making opportunity.
2. A Company Blog Makes You Look Good
I tell people this all of the time.
You may be thinking…
"My company is crushing it in revenue."
"Our marketing campaigns work just fine."
"I don't need to really focus on my blog."
Yeah…
Wrong!
Having a company blog actually reinforces the design of your website.
Blogs are so ubiquitous nowadays that consumers expect them from companies they plan on doing business with.
According to Single Grain, consumers are more likely to work with companies that provide the best mix of content.
Now, I could rest my case there.
But, some people just get complacent when their business is doing well.
And, they lose sight on blogging.
It doesn't matter how much money your business is making…
If you could make more, you should jump on that chance.
In any case, having a company blog makes your website look better.
Research proves that consumers are highly-judgmental about a website's design.
Spruce your website up with a high-quality blog to give potential customers a great first impression.
3. A Blog Boosts Positive User Experience
User experience is how a person enjoys your website.
If your website provides everything a potential customer is looking for, then they're going to likely convert.
That's why it's important to have a fast, responsive, and beautiful website.
Blogging and user experience go hand in hand as well.
Let's say that you're looking for a personal injury attorney after being in a car accident.
Most people after a car accident (especially if it's their first one), have no clue of what to do.
That's why this law firm wrote a blog telling readers everything they should do in the aftermath of a car accident.
This type of blog is exactly what a lot of potential customers are looking for.
Creating resourceful content will improve the user experience of your website.
And, that will lead to more conversions down the road.
4. Blogging Can Make You Money
Blogging can literally make you money.
I remember reading an article from Neil Patel, who is a digital marketing genius.
In the article, he talked about how Bryan Harris built a full-time business generating $15,000 per month from just…
One guest post!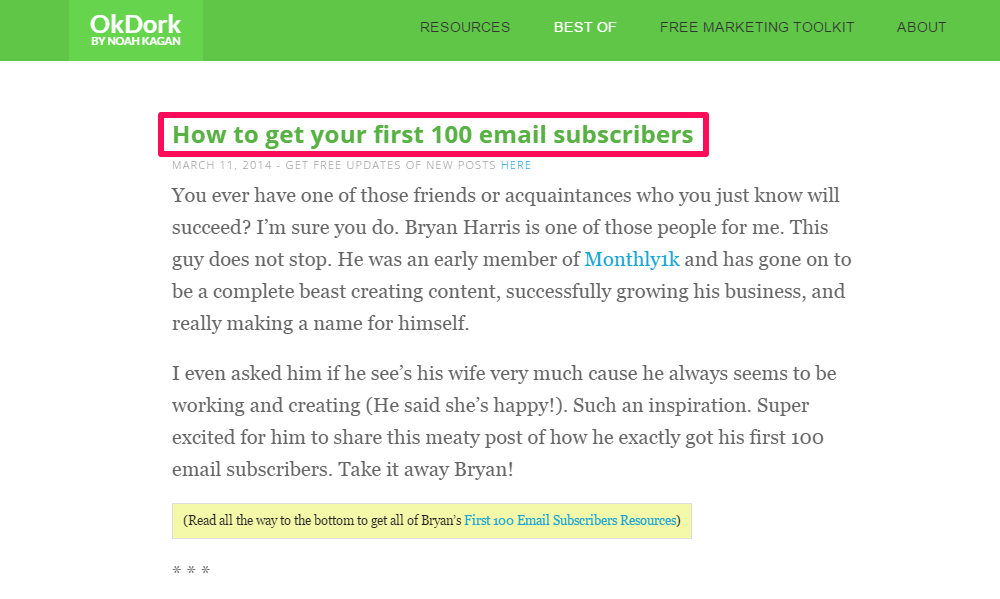 That guest post was so popular that the readers of OkDork flocked to Bryan's blog.
Coincidentally, Bryan was marketing a product at the same time.
That huge wave in traffic led Bryan to acquire $220,750 in invoice sales.
If your blogs are valuable to your target audience, they'll be less hesitant to purchase from you.
This means that your blog will actually make you money.
5. A Blog Can Connect Potential Customers to Your Brand
Boy, wouldn't be easy if a potential customer visited your website and made a purchase in about an hour?
Something like that would put marketers, salespeople, and myself out of work.
Unfortunately, that doesn't happen.
Now, in B2C audiences, it may be that easy.
Some people will splurge and buy things without any rhyme or reason.
In B2C audiences, where professionals need 100 reasons why they should purchase your product or service…
You're gonna need more than a live chat and a few FAQs to convert potential customers.
People and businesses aren't just going to buy from you just because they visit your website.
Ideally, they'll want to know more about you…
What your values are…
How you'll meet their needs…
And, how you'll add value to their lives.
According to recent marketing research from Marketing Charts, consumers only work with brands they trust.
That's because many of them are concerned with the "spread of fake news and false information on the internet".
Your blog can contain sales materials that address every pain point and concern your audience has.
Your blog can also publish marketing collateral that will convince your audience that you're a perfect match for them.
This is why it doesn't matter how much money your business is bringing in or how tight your marketing campaigns are.
Blogging builds brand trust.
And brand trust always leads to higher revenue.
6. Blogging Can Lead to Future Sales Opportunities
A successful and profitable business has a cohesive marketing plan.
Essentially, every marketing campaign should work together.
For example, I expect my social media marketing campaigns to draw awareness to my website…
And then, the traffic from my website will funnel into my blog.
Then, my blog will cause potential customers to subscribe and join my email list.
And, then I can focus on converting them at a later date.
See how all of these marketing campaigns work together?
Particularly, blogging can lead to future revenue opportunities if you have an email list.
With an email list, you'll have the direct attention of potential customers.
This means it'll be much easier to convert them.
After all, email marketing has the highest ROI out of every digital marketing initiative.
Returns can be as high as 4,400%!
It all starts with having a great blog.
Once potential customers trust you and give you their email address, the conversion process is a downhill battle.
7. Having a Blog Can Transform You into an Industry Leader
Again, consumers are more likely to work with brands they trust.
Industry leaders automatically gain the trust of consumers because…
Well, they're at the top of the business food chain.
Would you really need to read a blog from Apple before buying a new iPhone?
Of course not!
Millions of people trust Apple because they're a recognizable company that sits at the forefront of the tech industry.
If you want a high conversion rate like Apple, you should also strive to become an industry leader.
One way of doing this is by blogging.
In my industry, marketers like Neil Patel and Brian Dean continually make seven-figure profits.
And, if you ask them what's their secret…
Neil will tell you blogging made him into a successful businessman.
Brian will also tell you the same thing.
Blogs do more than look good.
There are millions of them online and countless people read blogs before making any type of purchasing decision.
In fact, this article from the Social Media Examiner, back in 2013, said that blogs outranked social media networks for consumer influence.
Told you – I'm not making this up!
8. Blogs Can Convert Any Lead
Since you can write a blog for any type of consumers despite their position in your sales funnel, your company blog can convert any lead.
Whether they're hot or cold.
Qualified or unqualified.
It doesn't matter.
Let me show you some proof.
Alright, let's say that somehow you ended up on HubSpot's website and wanted to learn more about their marketing software.
You know nothing about HubSpot and come across their blog…
Here's the first post you see.
Intrigued, you click on the blog because you want to know how to write a great article and are interested in their free templates.
After making it to the bottom of the article and downloading the templates, you realize something…
"Hey, this is pretty tedious and I'd like for HubSpot to do all of this for me."
"They're the experts and I've got the money – why not?!"
After scrolling on their site and looking at their software, you see this…
Bingo!
You didn't know a thing about HubSpot and read one of their blogs.
After being offered a free resource, you became intrigured and browsed their services.
Then you saw one of their landing pages and became a customer.
Congratulations!
Do your feet hurt?!
I just took you through most of the Buyer's Journey.
Do you see how a blog was able to convert an unqualified lead?
Now, every conversion won't go smoothly.
But, having a blog gives your audience knowledge about your products or services.
With that knowledge, they're being subliminally led to making a purchase.
This means that your blog will be doing all of the heavy-lifting for you.
Don't be complacent.
Dust off the spider webs from your blog and start giving it attention today.
What Do You Think?
That's all of the reasons I could think of why blogging is essential for any company.
Do you have anything to add?
Like this article, comment, and definitely subscribe!
Next Article: 5 Compelling Ways to Tell If You Need a Professional Blog Writer