Guest blogging helps companies:
Meet new audiences
Build quality backlinks
Drive more website traffic
Become an industry thought leader
Unfortunately, a lot of business leaders and entrepreneurs just don't have the time to submit a guest post.
Or, they just don't know where to start.
This guide will show you all you need to know about how to craft the perfect guest post in a few simple steps.
Table of Contents:
Step #1: Find Suitable Publications
This seems obvious, but you wouldn't believe the amount of time I wasted pitching a publication that wasn't interested in my idea.
It's an enormous time-suck, so you shouldn't skip this step.
The good news is that finding relevant industry publications is pretty simple.
All you need to do is enter the keyword, "best [industry] blogs" into your search engine.
I'm in the content marketing niche, so obviously, I'll use fill in the brackets with [content marketing].
And, here's the results I'll receive:
As you can see, there are a lot of compilation posts featuring the best content marketing blogs on the internet.
This means I can pitch worthy publications and receive quality links for my efforts.
Also, my pitches won't be ignored and I'll save a lot of time in the process.
Let's move on to the next step.
Step #2: Read the Guidelines Before You Pitch (Seriously!)
Everyone says it — read the guidelines before you pitch.
I've been writing for years, and I rarely followed this advice in my early years.
I was so eager to pitch and start writing, typically to get paid.
What happened was that editors would reach back out to me in frustration that my pitch didn't meet their guidelines.
And, then when I corrected my pitch, they never responded again.
Listen, guys…
Read the guidelines before you pitch.
Read them again and make sure you understand how to address the editor, structure your pitch, and submit writing samples before continuing.
Step #3: Keep Your Pitch Brief and Flavorful
Long pitches detailing your interest in a topic and expertise will get ignored by editors.
Why?
Editors are extremely busy. They receive thousands of pitches in a week and have the responsibility of reading them all.
Like your high school English teacher or college professor, they're skilled at reading through boring and "simpering" pitches and promptly deleted them afterward.
For this reason, make sure you keep your pitch brief while capturing the attention of the editor.
If you write a pitch like this, you'll get ignored in a hurry:
However, when you do it like this, your pitch may be more successful: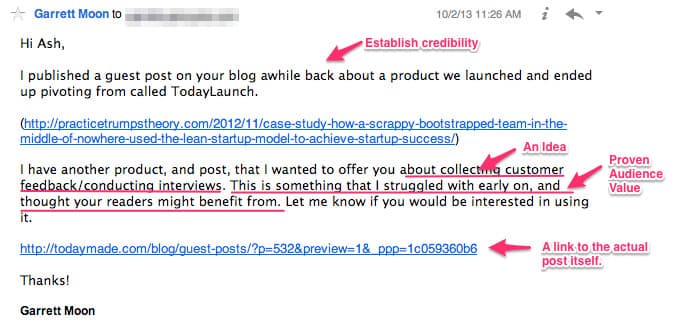 So, here are the main takeaways:
Keep your pitch below 200 words.
Lead with an idea, not flattery.
Show the editor that your pitch can provide value to their audience.
Build credibility by showing previous work.
Follow up in about a week if you haven't heard back. After that, leave the editor alone.
Step #4: Start Writing
Once you receive approval to start writing, it's important to produce an outline of your proposed article.
An outline looks something like this:
Once you create an outline, you're all free to start writing.
Before you get lost in the written word, here are some content writing tips to follow:
Use the first-person perspective.
Use the Hemmingway Editor app to eliminate passive voice.
Write in a conversational tone.
Keep your content actionable instead of informational. Tell your readers how to do something.
If possible, add brand mentions and backlinks only when they are relevant.
Add links to other guest posts if you have them. These are called second-tier backlinks.
Your draft will be submitted to editors who will do their best to mold the piece into a suitable blog.
With a lot of practice and effort, you can write tons of quality guest articles and start promoting your business.
Got Any Questions?
As you can see, guest posting is a pretty simple process.
Still, if you lack the time and want it done right, hiring a content writer is a suitable option.
With that said, I'd love to speak to you if you would like to start building link equity across the web.